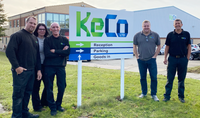 We're Celebrating!
We're celebrating our fourth birthday by announcing news of our increased sales growth, by 30%!  We've experienced a sustained sales growth year-on-year since our conception back in 2015 and are pleased to share news of such strong growth in 2019.
"When KeCo was founded, the Company's primary focus was to service the fish and chip sector with specifically produced packaging products to meet the changing demands in material requirements.  This was as the move from EPS boxes (expanded polystyrene) to a more environmentally friendly alternative started to take off.  As a result of servicing the core suppliers to this market, it was quickly realised there was a need for local production of other packaging items – like folded carton boxes.  It was then KeCo and its Directors invested in the site location here at Kimbolton, Cambridgeshire; with the aim of producing what is now an established range of premium quality disposable packaging solutions."  John Young, Sales and Marketing Director.
With almost 40 years' experience in food packaging, our extremely knowledgeable workforce and competent operating structure allow us to service an industry widely affected by consumer behaviour.   As consumer preferences and expectations towards packaging evolve, especially with the continued greater awareness of the environmental impact of packaging, so too does the innovation and NPD invested in by KeCo.