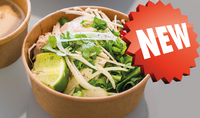 NEW! Simply Kraft Multi-food Bowls
Sometimes it pays to be simple where food presentation needs minimal design with maximum functionality.
Thanks to our Simply Kraft range, all manner of food-to-go requirements can be presented stylishly in one comprehensive collection.
Our new Simply Kraft multi-food containers are extremely versatile.. perfect for hot foods, liquids and tasty snacks such as porridge, pastas and noodles or salads with dressing.
Click here to view more SIMPLY KRAFT RANGE