News Room
Sabert Corporation Acquires KeCo Ltd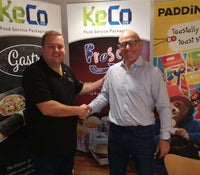 keCo Food Service Packaging acquired by one of the leaders in eco-friendly food packaging and tableware in Europe, Sabert Corporation EU..
"The acquisition of KeCo is a unique opportunity for Sabert Europe to further enhance our portfolio of sustainable foodservice packaging solutions. KeCo is a great company with a strong record of developing and marketing  innovative and eco-friendly packaging solutions with a high level of quality and service to its UK customers.  The combination of KeCo and Sabert will support our growth strategy to meet European foodservice customers' growing demand for sustainable solutions. We warmly welcome KeCo's team to the Sabert family," said Philippe Leemans, CEO of Sabert Europe.
"By joining the Sabert group, we will have access to larger resources and an extended global market presence. This will accelerate our future growth as we capitalize on the combined distribution network and the European footprint of Sabert, which we are all very excited about." said the Directors of Keco Jamie Kearns (Operations Director) , John Young (Sales & Marketing Director) and Alan Pealling (Finance Director).
The entire KeCo team remains in place and join the Sabert team in order to continue the excellent work in servicing its customers. All usual contact persons stay the same.
About Sabert Europe
Experts in food packaging since 1990, Sabert Europe has grown and evolved to become one of the leaders in eco-friendly food packaging and tableware in Europe. With 30 years of experience, the Sabert mission is to offer their clients the best guarantees in terms of quality, safety and service. Sabert Europe are responsible for the entire production process, from the raw materials to the final product.